Our Pastor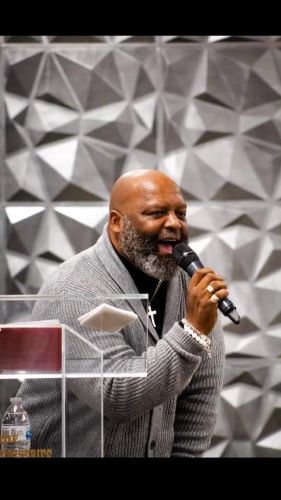 MEET THE PASTOR
Dr. Rodney A. Goss is the Senior Pastor of Morning Star Baptist Church. He is a consummate student of the Bible.  He has been a pastor, preacher, and teacher of God's Word for over 30 years.
 Pastor Goss earned his Doctorate and Master of Theology degrees from Andersonville  Theological Seminary in Camilla, GA, graduating Magna Cum Laude in both degrees. He earned     his Bachelor of Science degree in Christian Education from Southeastern Baptist College in Laurel, MS, with highest honors. He is a member of the Association for Biblical Higher Education Delta Epsilon Chi Honor Society. Pastor Goss received numerous awards, recognitions, and accolades during his college career; Student of the Year, Highest Honor Graduate, and Top Scholar Award to name a few.
 Pastor Goss has conducted numerous pastor and leadership conferences and seminars. He has    been asked to bring the keynote address at several national, regional, and local Baptist   Conventions. He has served as President for Lift Bible College as well as Dean of Academics for   Second Sweet Pilgrim District Sunday School Association in Hattiesburg, MS. He currently serves   on the board for the National Baptist Convention, USA and as the 3rd Vice-Moderator of the First   United Creek District in Tulsa, Oklahoma.
Dr. Goss is a community servant and works hard in and around the North Tulsa area. He is currently a board member for Tulsa Metropolitan Ministries; an ecumenical organization that promotes "cooperation, understanding and service among the faithful of Tulsa" whose motto is: "We don't have to believe alike to love alike." He also serves as a board member for Smiles of Faith Incorporated which promotes free dental care for the North Tulsa Community. He serves on the board for the Food Bank of Eastern Oklahoma and co-chairs the Tulsa Together Inter-Denominational Christian Association.
Dr. Goss continues to grow in spirit and in the knowledge of the Word of God and has dedicated himself to the great commission of God which is, "Go ye therefore and teach all nations, baptizing them in the name of the Father, and of the Son, and of the Holy Ghost," Matthew 28:19.
Pastor Goss has been married for 31 years to Veronica E. Goss and is the father of five adult children; Racquel, Rodney, Tami, Quavius and Ebone', and he has two grandchildren, Alésia and Isaiah.